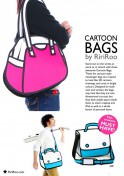 New Fashion Boutique Launches in Bedfordshire
Artist, Designer and Director of Artists Info Online Art Gallery Melanie Burnell, is launching her brand new fashion boutique, RiriRoo in Bedfordshire later this week. She has been selected to take part in an exciting new shop that will be the first of its kind in Beds, Bucks and Herts as part of PopUp Britain which gives new British brands a rare opportunity to get their products onto the British High Street. It houses some of Britain's most promising small enterprises for two weeks at a time giving them the opportunity to experience having a retail store and valuable support from retail guru's and household names like John Lewis.  The other PopUp stores are set in prestigious London locations including its flagship store in Richmond. The Dunstable store opens on October 31st and Melanie will be among the first group of traders launching her brand new fashion boutique, RiriRoo. She will be joined by Judith Menges, one of the artists represented on her online art gallery Artists Info and an array of other local artisans all selling their handmade wares to the town's Christmas shoppers.
Melanie came up with the idea of RiriRoo, named after her twelve year old daughter, Riannon, while recovering from a severe mental illness that she developed following a stressful few years building up and running her large Bedfordshire-based arts centre which she closed in 2011 due to rising overheads. She developed Psychosis, an illness which she describes as 'a living nightmare' and was hospitalised for three months last year. Once recovered she built a new business from scratch once again - this time online. She now runs one of the world's leading online art galleries, Artists Info. During her recovery and prior to working on Artists Info, Melanie discovered the ancient art of making little origami stars which she found very therapeutic. These stars, known as Wish Stars are believed in eastern tradition to bring wishes & good fortune. It is these which inspired RiriRoo.
www.ririroo.com
Melanie says: "I am a proud advocate of mental health awareness and am writing a book about my experiences and launching a charity. Artists Info is running well and I felt it was a good time to launch my new enterprise incorporating the Wish Stars that I have enjoyed making so much."
RiriRoo is a fashion boutique that promotes positive mental well-being in young women. Melanie's trendy, affordable fashion line features the designs of The RiriRoo Girlz - five beautifully illustrated sassy and inspirational girls that are the face of her brand. She can also create personalised designs to reflect her customers own style and personality and every item includes a handmade Wish Star. The RiriRoo Girlz are based on real people she knows who have over-come hard times to flourish against the odds. Melanie hopes they will inspire other girls as she shares their stories on her new website over the coming weeks. She also plans to build on their influence by uploading videos of them onto the RiriRoo website giving tips and advice on a variety of topics from hair and make-up advice and tips to deal with stress.
Visit the Official RiriRoo PopUp Shop 31 Oct-14 Nov at PopUp Dunstable, 3 Ashton Square Dunstable LU6 3SN (near Wilkinsons)
Could you be the next RiriRoo Girl? Melanie's looking for a sassy girl who is beautiful on the inside and on the outside. Apply online here.