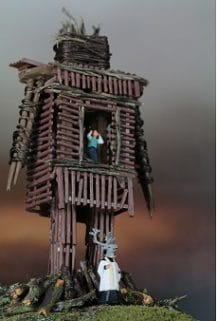 We talk to artist Laura Beaumont from London.
Please describe your artwork style.
I work in mixed media, carving into antique books and using HO scale plastic people, buildings and foliage that are used in railway modelling to create a scenario within it. Based on the title of the book and using some of the pages from inside it... I fashion a diorama that uses the title and the words within the book to express what it is I want to say with the piece. Some pieces are dark, some are funny, some are sexy and some link up to other pieces I have done. Or all of the above!
What's your background?
I started life as an actress but after realising that I preferred writing I wrote plays, musicals, TV shows and books – which I illustrated myself. I went to art college in 2011 and it was there I discovered how much I loved art and I used the time there to expand my artistic skill set.
How long have you been an artist?
Pretty much all my life. I have done illustrations, time based media, set design and collage. I also write animation which is all about pictures and characters and structuring things so they work.
Who or what are your biggest influences?
Joseph Cornell, Jake and Dinos Chapman, The League of Gentlemen, Louise Bourgeois, Jim Henson, Salvador Dali, Rene Magritte, Banksy, Wes Anderson, Joni Mitchell… the list is quite huge!
How have you developed your career?
I haven't knowingly developed my career, I just keep creating and experimenting with the ideas that come into my head. From making the books I then started using the HO figures to make a working model train set and have now deviated into using them to create cuckoo clocks.
Which current art world trends are you following?
None at the moment that I am aware of.
Where do you create your work?
In my studio. I need a big studio as I have to store my working train set in it! But most of it is done in my head.
What do you feel is the role of the artist in society?
To make people think, evaluate and analyse… to entertain. To express things that people can relate to and may find hard to formulate with words.
What techniques / mediums do you use?
Cutting and carving, gluing, measuring…. So maybe collage would sum it up. A certain amount of sculpting comes into it too… precision is the key… something I struggle with!
Which is more important to you, the subject of your painting, or the way it is executed?
Both! I think if it's badly executed it would distract from what it is you want to say. The more you hone your skills the better your pieces will be!
How do you feel when you are letting your emotions loose on the canvas?
I don't paint so I don't know… but I love being totally absorbed in creating something. I love that you start the day with nothing and by the end of the day… something exists that wasn't there before.
What project are you working on now?
My cuckoo clocks are the newest addition to my catalogue. I have so many ideas for them I can't keep up!
Any current or up-coming exhibitions?
I have two pieces in the Royal Academy Summer Show and I have a solo show starting September 12th in London at Gallery Different, Percy Street.
Where do you find your ideas for your work?
Everywhere… bus stops, hearing people talk, watching a movie, being away somewhere… I really do have lots of ideas and I know I will never have the time to do them all! Mind you… some are better than others.
Is there an artwork you are most proud of?Why?
No. I love all of them equally, as you would your children!. Although… The Cut, my train set is a big favourite as it was such an undertaking, I had to learn so much to do it… a real puzzle. But it pulled so many of my stories together.
How do you know when a work is finished?
I have the vision of what I want to do in my head and I just know when it's complete.
What is your most important artist tool? Is there something you can't live without in your studio?
My scalpel
Is there an element of art you enjoy working with most? Why?
The little plastic people as I can customise them and make so many interesting scenes with them. If you get the eye contact right… they can really come to life and it adds such a lot to the scene your creating.
To see more of Laura's work click here: www.laurabeaumontartist.com